The ProExporter Network® delivers its content across numerous mediums with the goal of educating clients on the big picture agriculture issues all the way down to the detailed county level supply demand picture.
Reports & Consultations
PRX Reports cover the staple crops and policy development in the industry. Consultations with PRX principals (based on availability) are possible for all clients.
Blue Sky Model
A ten-year running projection based on a dozen or more assumptions.
Custom Services
Small area supply-demand studies, full-site feasibility studies, visits by PRX principals to client locations, and more.
Seminars
PRX Seminars deliver relevant information to all attendees. Each seminar includes a guest keynote speaker and senior PRX staff presentations.
What does a ProExporter Network subscription include?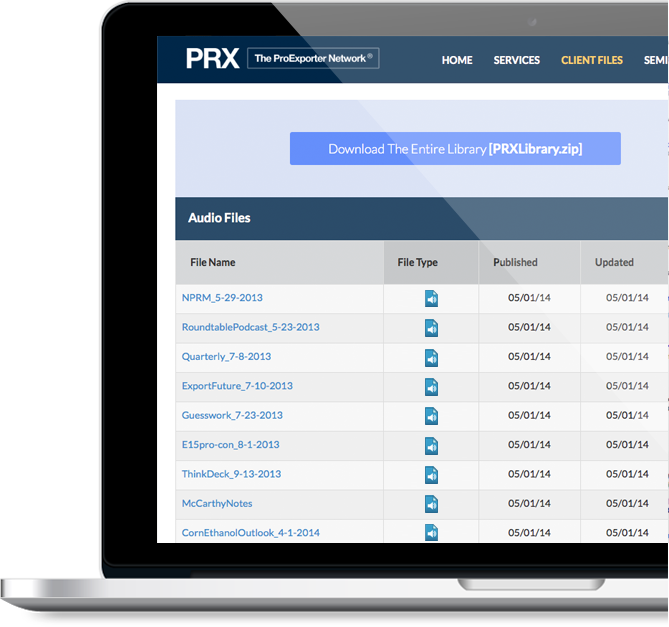 "PRX offers a unique approach toward transparency and simplification in highly complex Ag market and policy analysis. Their blend of client collaboration, topical focus, clear presentation and spontaneous dissemination place them among our most trusted business allies."
—Neill McKinstray, President of Ethanol Group, The Andersons
"Marathon has been a client of PRX since May of 2006 and has valued their information in the areas of M&A, Corn Market, Biofuel Market, and Policy Analysis."
—Jerry D. Morehart, Commercial Development Manager, Marathon Petroleum Company, LP
"PRX is one of the few research firms that our association uses. We appreciate their personal service and prompt attention to our requests. Their information is always helpful when I need to make a presentation."
—Rick Tolman, Former CEO, National Corn Growers Association