The ProExporter Network® provides economic research and analysis to major agribusiness firms and investors. The firm's research focuses on U.S. grain flows, transportation demand, and the impact of these items on cash grain markets.
The goal of the firm is not to forecast the futures market, but rather to provide new approaches to understanding world grain and energy markets for longer-term strategic planning, especially with respect to the transportation of grains in North America and the impact of geography on cash grain price patterns.
The firm's unique strength is its understanding and ability to illustrate the link between geography, grain prices, and grain movements. PRX provides its clients with analysis that can include the world view or can be narrowed to the supply/demand situation for the corner of a county in the Corn Belt.
PRX was the pioneer in using satellite-based mapping technology to understand grain movements. The firm developed its Commodity Market Zone Analysis (CMZA) in collaboration with NASA's Space Remote Sensing Center. This software program maps grain origination territories for elevators and processors by road distance and plays one site off against its geographic neighbors in terms of the different grain bids (prices) that each might have.
Major grain merchandising and processing companies rely on this analysis to understand local cash grain prices and movements. This type of analysis is widely used by firms in selecting the geographic location for new facilities. The PRX geographical site comparison is paired with "small area basis impact analyses," which provides a strong indication of how the cash price would change in one given location versus another.
More recent analysis by PRX has used this geographical supply/demand picture to build a convincing econometric model for what factors govern the highs and lows of the spreads between different months of the Chicago Board of Trade corn contracts.
With the emergence of the U.S. ethanol industry, the CMZA mapping system has become the standard in the ethanol investment community for prudent site location analysis, corn basis impact studies, and understanding the geographic and transportation aspects of ethanol expansion. PRX is the leading firm in providing feasibility studies for new ethanol facilities.
Government regulations affect the ethanol industry and the entire agribusiness sector. Understanding the implications of these regulations is a full time pursuit of PRX. Extensive documentation is done by our firm with the goal of simplify these complex topics for all of our clients to better understand them.

The ProExporter Network® has benefited from long-standing collaboration with John Stewart and Associates (JSA), an agricultural risk management and consulting service now headquartered in St. Joseph, MO. JSA's founder and namesake, John Stewart, was an integral part of the formation of PRX in 1988 and an important contributor to PRX's analytical system. JSA is today led by principals Tom Tucker, based in San Antonio, Texas, Doug Schultz, based in St. Joseph, Missouri, Mike (Rocky) Rokala based in Satellite Beach, Florida, Brian Burke and Brent Baker, based in St. Louis, Missouri. The firm is an introducing broker for ADM Investor Services, Inc. (ADMIS) and a leading provider of risk management services to the elevators, ethanol, livestock producers, feed manufacturers, and processor industries.
Further information about John Stewart & Associates may be found on their web site: www.jpsi.com.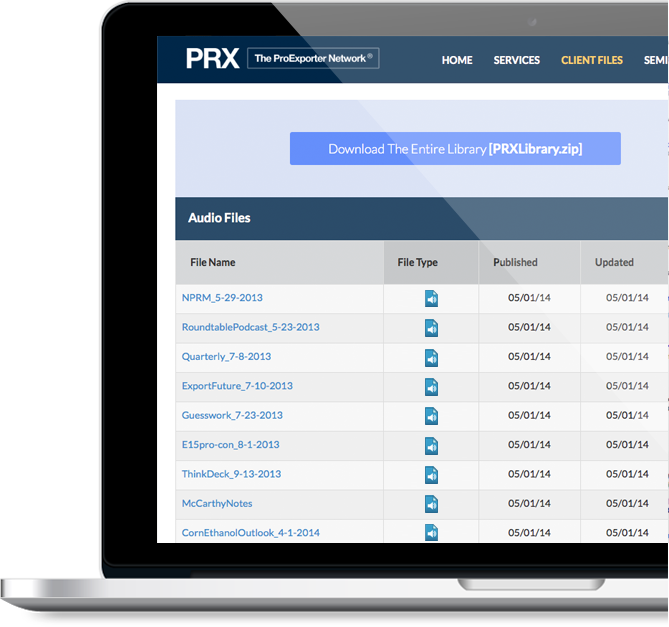 "PRX offers a unique approach toward transparency and simplification in highly complex Ag market and policy analysis. Their blend of client collaboration, topical focus, clear presentation and spontaneous dissemination place them among our most trusted business allies."
—Neill McKinstray, President of Ethanol Group, The Andersons
"Marathon has been a client of PRX since May of 2006 and has valued their information in the areas of M&A, Corn Market, Biofuel Market, and Policy Analysis."
—Jerry D. Morehart, Commercial Development Manager, Marathon Petroleum Company, LP
"PRX is one of the few research firms that our association uses. We appreciate their personal service and prompt attention to our requests. Their information is always helpful when I need to make a presentation."
—Rick Tolman, Former CEO, National Corn Growers Association